As for years, the AA battery issue of the Pentax DSLRs have not yet been completely resolved by Pentax, never (and forever - my bet).

There is no exception for the K-m, which now even only allows solely the use of AA type batteries and CR-V3 type cannot be inserted for what the battery compartment is designed, mechanically, since the K200D. Here is a shot about how the battery compartment is designed and made (note the protruding part inside):-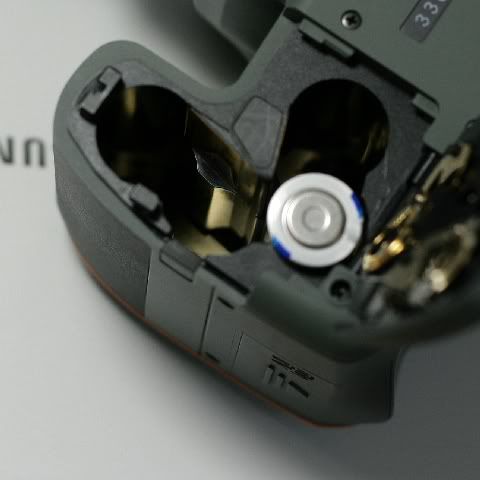 The problems of using AA NiMHs are heavy (about 110g for 4), short battery life, unstable battery power and lower camera performance.

I use Sanyo Eneloop and the battery half-depleted warning often appear after heavier power demand when using the camera. I really don't like it, or just hate it. And, four AA NiMHs which are roughly equal 110g, which are no good to carry around everywhere. For just the weight of such low performance batteries, I think it is not worth, in any sense.

But then here comes the Energizer Lithium AAs, which are bundled with the camera and is highly recommended by Pentax. Yes, they are light-weight and of high performance. But the main problem is that they are NOT Rechargeables! Cost is a concern here and more a problem for its non-environmental friendliness! Hey, men, please save the Earth!

So, can we all Pentax AA DSLR users can get the best of both worlds? I am afraid that the answer is No and Not, especially with the current line of Pentax AA battery DSLRs which do not even allow the use of CR-V3 so that even those *Regulated* CR-V3 cannot be inserted and used in any K-m and K200D.

Since I have two Regulated Rechargeable CR-V3 and a dedicated charger left from my old K100D (which can use the CR-V3 batteries), I have been thinking about to hack the batteries so that I could use the high performance Lithium-ion battery in my K-m again. But since Pentax have prohibited the use of even disposable CR-V3s for my K-m, I have been careful to think about it more and measured the battery voltage (again) for different battery types:-

- Eneloop: Maximum no-load freshly charged voltage for two: 2.5~2.6V;
- CR-V3: Maximum no-load voltage per each new battery: 3.3~3.4V;
- Energizer AA Lithium: Maximum no-load voltage for two: 3.1~3.2V;
- My Regulated RCR-V3 when freshly charged, no-load: 3.4V

Since it is just too difficult and actually non-sense to hack the K-m's battery compartment, I simply dissembled my CR-V3 and remove the part that has conflicts with the "prohibiter" of the battery compartment and re-wrapped the battery and sealed all the electrical parts with Denka Vini-Tape:-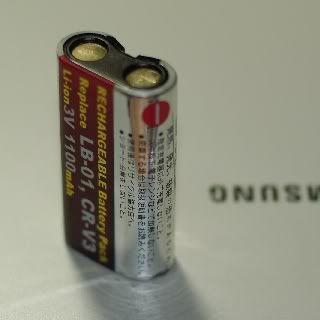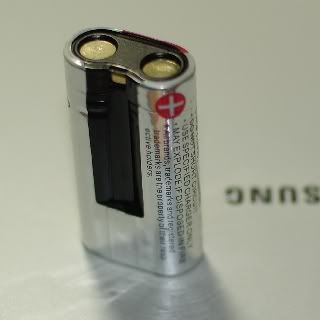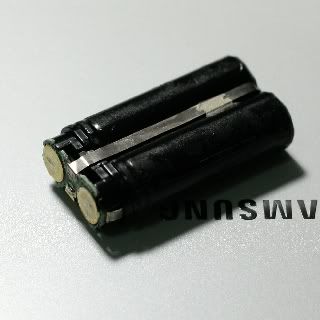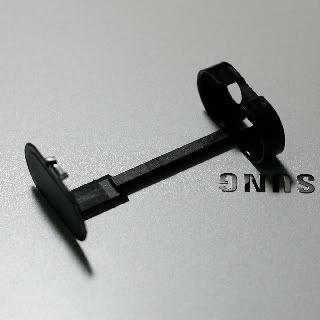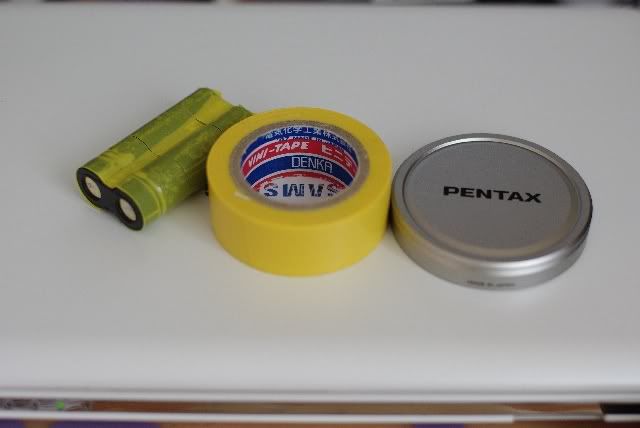 Well, do note the above that the battery has PCB and circuitry and components inside in order to regulate the voltage down to 3.4V which is lower than the nominal voltage of 3.7 to 4.0V of the rechargeable Lithium-ion cells that are used.

But since two RCR-V3s now make up 6.8V and even disposable CR-V3s which can also have that maximum total voltage (of 6.8V also) are not "designed" to be used in the K-m, I have not been dare to insert two RCR-V3s in my K-m at the same time, as the overall voltage would be too high for the camera (The highest safe voltage limit would be 6.4V, i.e., the voltage of two new AA Lithiums). I opted not to take the risk to "overclock" my camera by that 0.4V, which maybe outside the design tolerance.

So, must I use the low voltage and low performance NiMHs in my K-m if I want rechargeables? In fact, my K-m will get the battery half-depleted warning shown for a set of four newly charged Eneloops after 100 shots and especially after high current/power is required/demanded, e.g., more AF, more LCD displaying, continuous shooting (this mode is really power hungry! Try it yourself!).

To get the best of both worlds and still make it safe enough, I mix one hacked RCR-V3 of mine and two Eneloops, so as to make up a "new" voltage of 6.0V, which is actually the idealistic value for battery voltage for all Pentax AA DSLRs! Mixing these two types batteries will not harm as:-

1. The batteries are in series but not in parallel;
2. The lower performance batteries are also rechargeables so there is no risk in being charging them up by another more powerful power source;
3. The higher internal resistance of any battery cell will limit the maximum current through the whole electrical circuit (but possibly the camera itself should be the bottle neck).

After all these hacking and voltage measurements, I still have to test the differences in performance for using different battery types and combinations, namely, I have measurebated the AF motor speed and the camera system/shutter time lag, here are the results:-


Remarks:
1. The FA 43 Limited was mounted, first driven to infinity before the test, then pointed the camera to a bright sky without any pattern and let the motor ran from 00 to the nearest distance and back to 00 and the timing was measured;

2. Measured from the completion of shutter release button pressing to the time of exposure.

3. The above test was carried out in an air-conditioned room at around 24 deg. C.
Do note that the above test is carried out for freshly charged batteries and new AA lithiums from newly opened pack. The difference in performance will become more obviously shortly when the performance (actually on-load voltage) of the AA NiMHs (Eneloops - the best and most "suitable" model, already) drops very quickly after 100 shots or so and in heavier current/power demand situations.
In the meantime, I shall choose the 1 RCR-V3 + 2 Eneloop mixed rechargeable solution. Now, I have turned on the back (status) LCD of my K-m on all the time (via a Custom Function, which is actually the default setting, but power consuming) and need not to worry about battery power drainage any more.
Also, as you can see, the performance of the camera, when using the mixed rechargeable solution, is actually close to that of using solely new AA Lithiums, which is yet a good thing. It can also be noted that further increasing the battery voltage has only minimal benefit for the camera performances, for both AF speed and system/shutter time lag. So, the bottle neck and threshold is really the NiMH battery and most benefits can be obtained/seen when changed to AA Lithium (and now by only one Regulated Rechargeable CR-V3) - project completed, hacking completed! ;=D (Victory!)
p.s. IF I was the Engineer of Pentax, I would choose to use an proprietary Lithium-ion/Lithium Ploymer rechargeable solution in ALL the DSLRs - problem totally resolved and the end of the story and all problems!