New Products' Images with Detailed Specs!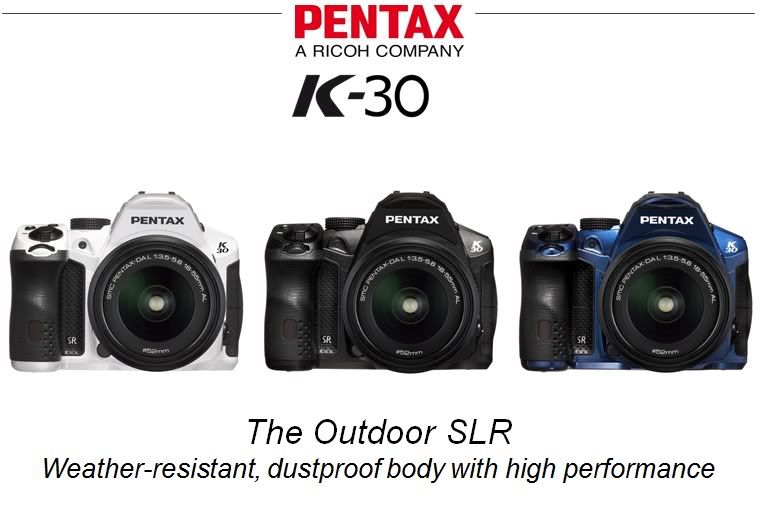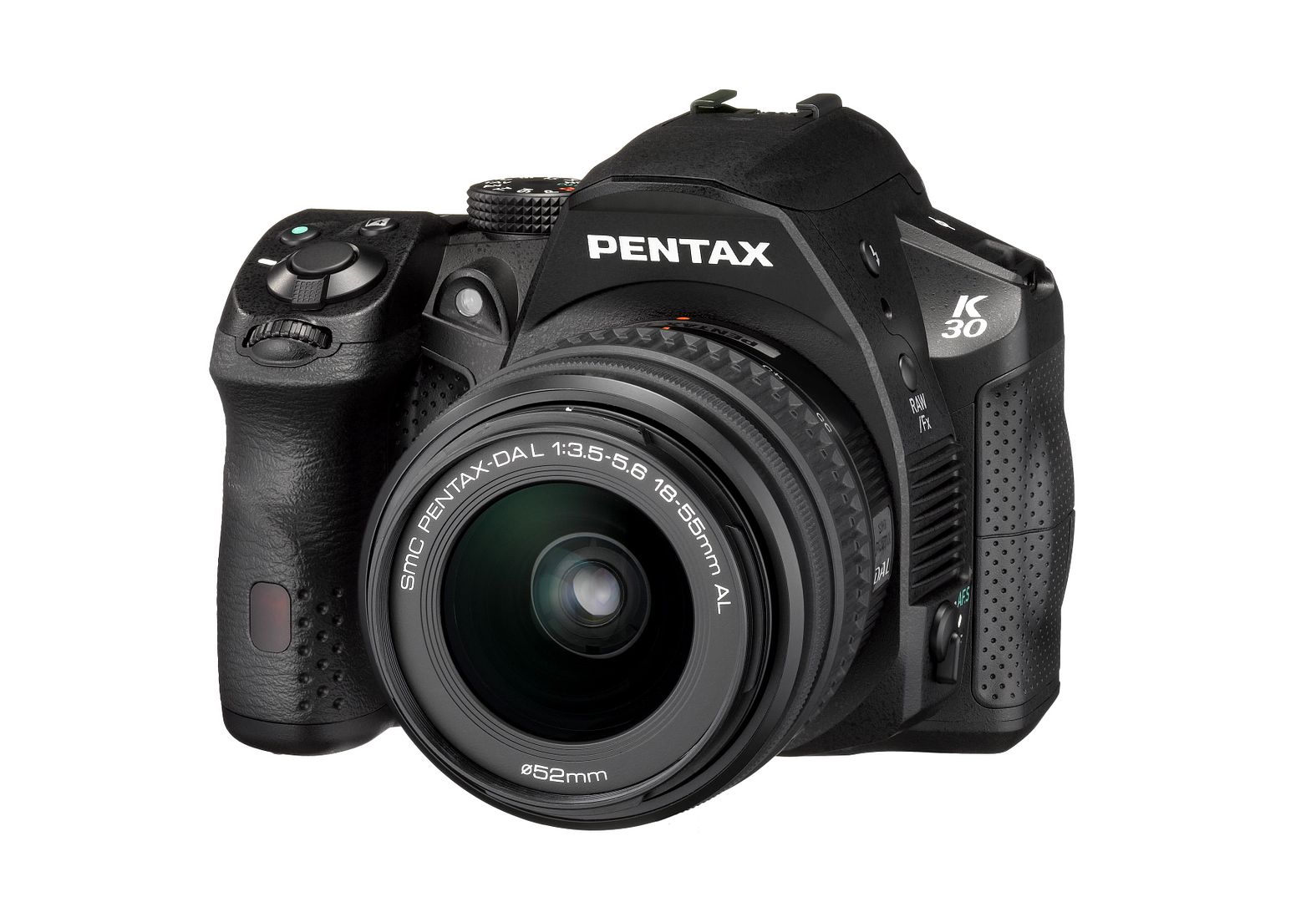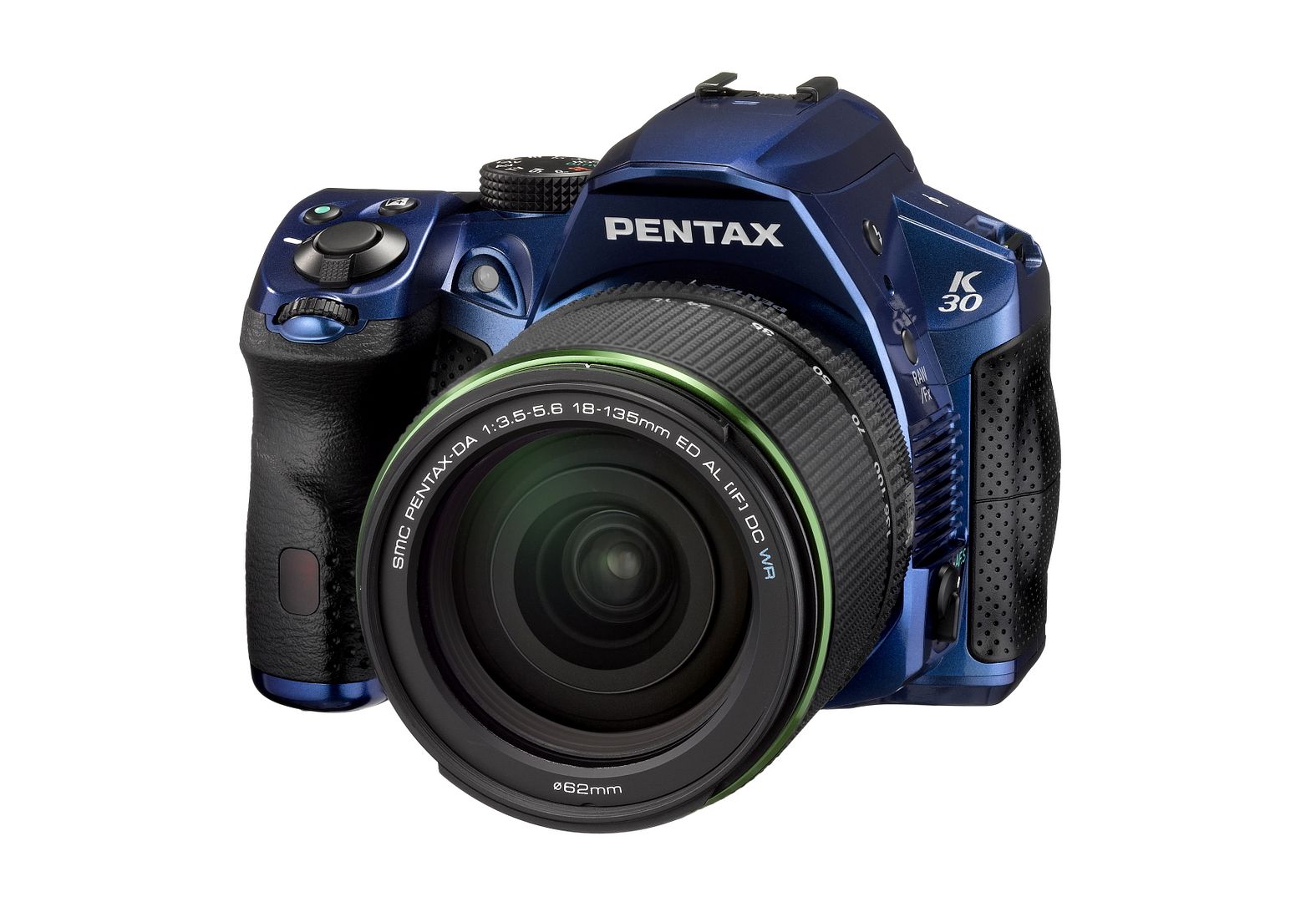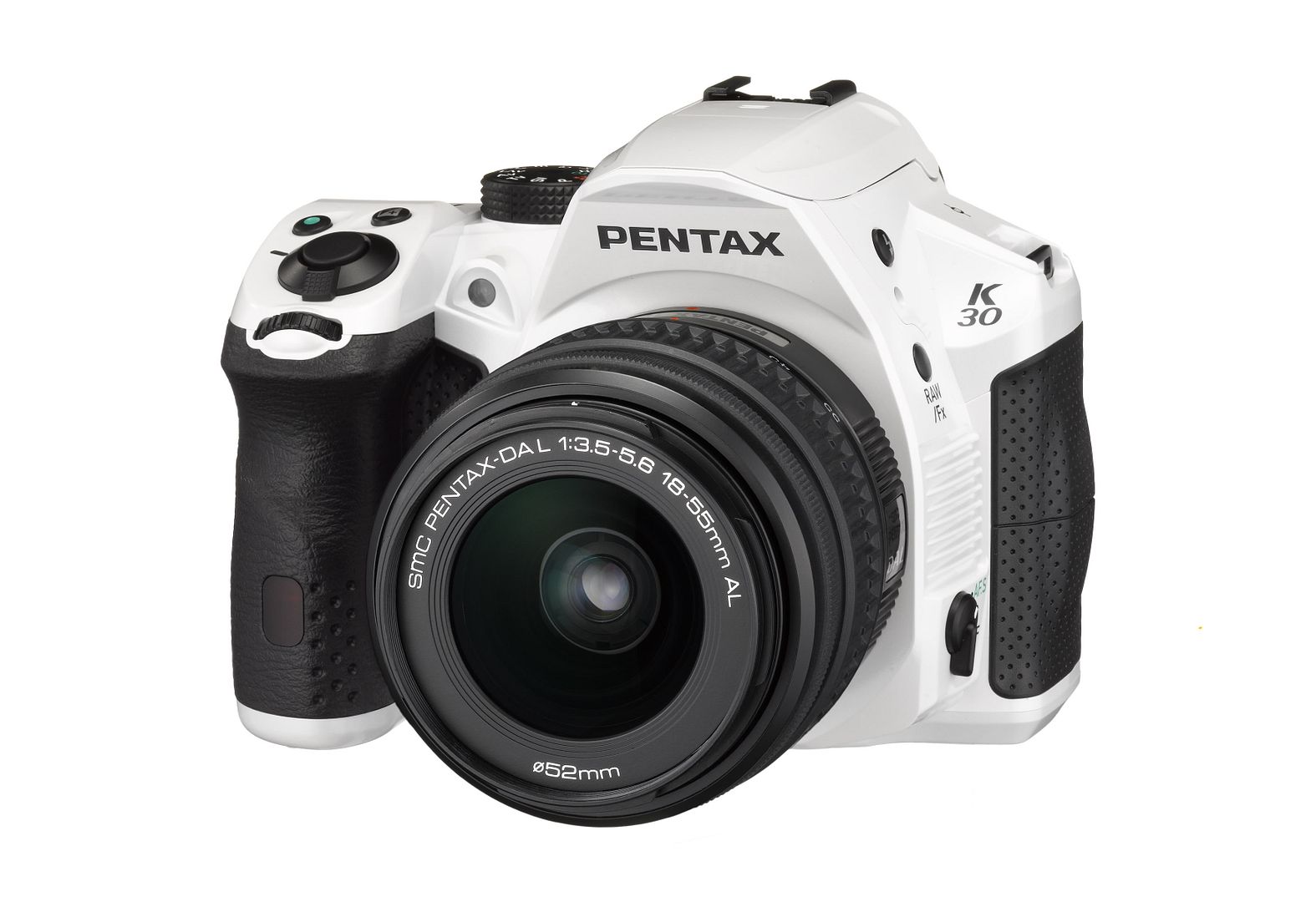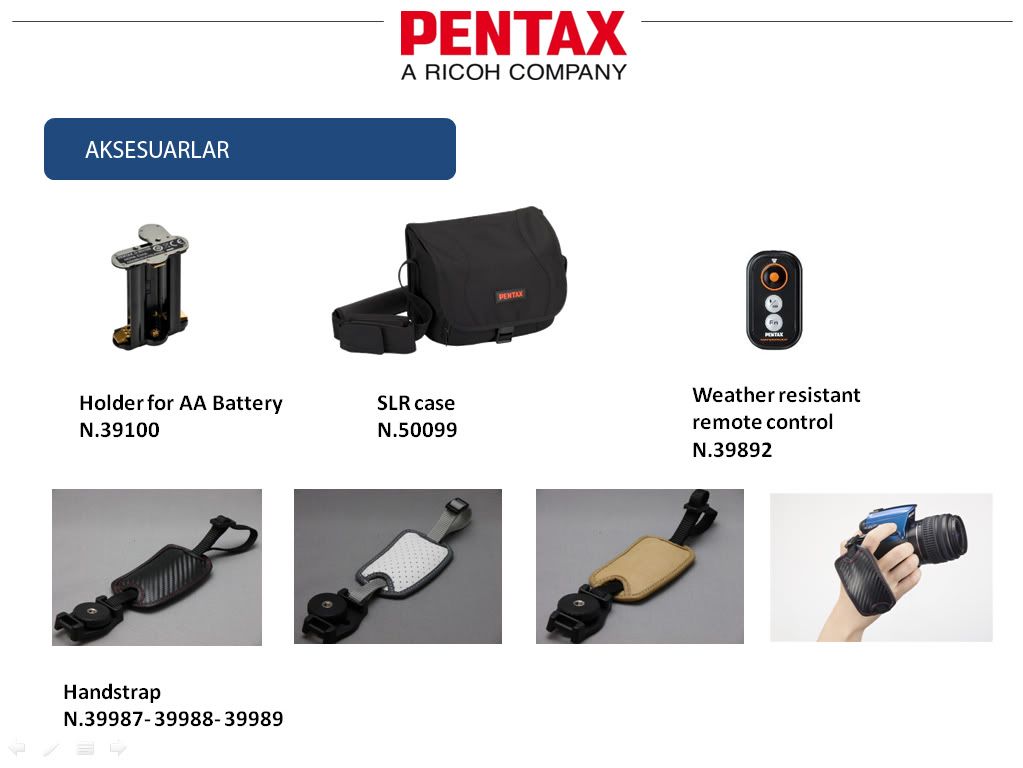 See: http://www.pentaxturk.com/forum/index.php?topic=1309.msg15245;topicseen#new

This is the Google translation of the specs:-

Open SLR Weather resistant stainless steel chassis and
(Splashing water, snow, dust and sand, protecting electronic circuits against)
* Excellent Image Quality

16MP APS-C CMOS sensor
High-speed image data signals to read and full detail a newly developed CMOS image sensor 16 MP APS-C (23.7X 15.7mm)
Vibration Sensor Blocker SR (Shake Reduction) available.
ISO 25 600 sensitivity.
Cleaning System

* Outstanding Video Image Quality

1080p Full HD video recording (1920 x 1080 pixels) High-quality video capture
Codec H.264 recording format
Frame rate to the user a choice to accommodate specific applications (Full HD 30, 25 or 24 fps, and HD resolution of up to 60 fps) to provide
Exposure Compensation (P, Av or M)
Video Editing and Customization
Custom Image (Cross Processing, Monochrome, inverse Movie, Bleach Bypass, Muted, Bright, Vivid, Landscape, Portrait, Natural, Glossy)
Digital filters (Color, Color Invert, Color, Toy Camera, Retro, High Contrast Extract)
Intermittent Feature Film (within the specified range is a series of images, and (99 hours) makes a video clip

* Fast and Sharp

Continuous shooting 6 frames / sec. Up to 30 JPEG and RAW 8
Estantane speed 1/6000 'e sec. To freeze the action in an image. Sports photography, and action for children

* Ease of Use

3 "(inch) LCD screen, 921 000 points, extra-wide 170 ° viewing
100% pentaprism viewfinder for a great comfort
Dual-Processor for direct access to various settings
Dual Power AA / AA batteries feature lithium-ion or
Auto exposure modes and a wide selection of digital filters

* Many Features

Custom Photo 9 modes (Bright, natural, portrait, landscape, lively, bright, quiet, ağırtmasız positive, unlike film, single-color, cross-processing)
Extending the dynamic range of highlights and shadows for more information
Multi-exposure
Interval Timer Shooting
Built-in RAW development
23 custom functions
Buttons / privatization
Flicker Reduction
Electronic level
Focus peaking
Lens correction
Copyright Information
Pixel mapping
Electronic level


Additon 1: Plus the following leak about the new AF system at my Blog by someone:-

"The K-30 features the state-of-the-art SAFOX IXi+ AF sensor module, which assures responsive, high-precision autofocus operation by incorporating a diffraction lens to minimize chromatic aberration in accordance to the characteristics of each individual lens. It also factors the light source at the time of shooting into its calculations. Nine of its 11 sensor points have cross-type sensors to capture all kinds of subjects in sharp focus, while its spotbeam projector assists the AF system at poorly lit locations. The K-30's AF algorithm has also been upgraded in all areas. A new select-area expansion function allows the sensor module to continue to track a moving subject, even when it moves out of a pre-assigned auto-tracking area, by assessing distance data collected by neighboring focus sensors. The accuracy and speed of detecting moving subjects during autofocus shooting, and autofocusing performance when using a telephoto lens, have been greatly improved as well."

Addition 2: Fengwei has leaked more things at the Chinese Xitek Forum. Although he just points to the above Turkey forum, the information he writes does NOT appear over there! (Maybe the last time he was warned more seriously! ;-))

* High performance 16 megapixel APS-C CMOS image sensor.
* Full weather sealing for worry-free use in any weather condition.
* Rugged coldproof design for sub-freezing use (-10C, 14F).
* PRIME M image processing engine, optimized for video, also captures outstanding still images.
* Full 1080p30 HD video features h.264 compression, flexible exposure control, and HDR finishing options.
* Advanced SAFOX IXi+ autofocus engine features AF assist lamp, light source sensor, and improved optical components.
* Large 3 inch LCD is wide angle viewable, and features 921,000 dots of resolution.
* Live View focus peaking highlights in-focus surfaces for fast and accurate manual or autofocus.
* Low profile glass pentaprism viewfinder achieves a 100% optical field of view.
* Highly accurate 77 segment metering system for accurate exposure, even in complex lighting.
* Fast 6 FPS continuous shooting mode and 1/6000 second maximum shutter speed.
* ISO speeds up to 25600 improve shutter speeds while minimizing noise in low lighting.
* Programmable front and rear e-dials for convenience and PENTAX Hyper shift operation.
* Sensor-shift Shake/Dust Reduction ensures sharp, dust-free imaging with any mounted lens.
* Traditional modes combine with automatic modes for powerful, user-friendly operation.
* In-camera HDR shooting modes feature multiple blending options and pixel alignment.
* Compatible with both rechargeable Li-Ion and AA batteries (via optional AA battery holder).
* Highly compact yet durable body with comfortable ergonomics.

Addition 3: Some more product photos leaked at the Pentax Forums!





It seems to be a new K-5 + K-01 afterall, with little missing features, at least on paper, i.e., for the published specs! And there are even more for some little improvements, finally!