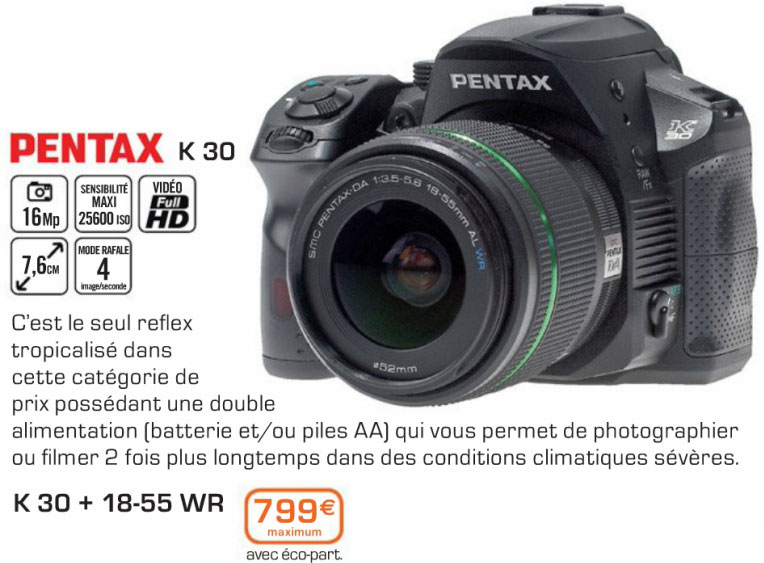 Via: Photo Rumors

The K 30 information was first leaked via French forum Pentax One and also Amazon UK has shown the price and three colours of it at about the same time as discovered by some Pentaxians. Update: The K 30 items have already been removed at Amazon UK but I captured the screen before and here it is:-




It is clearly stated that the product is to be released on June 25.

After all, that's what we have about the K 30:-

- The same K-5/K-01 16.2MP Sony CMOS sensor up to ISO 25600;

- Full HD video recording (possibly with the same specs of K-01's);

- 3" LCD monitor;

- 4 frames per second continuous shooting rate (which is slower than both K-r and K-x);

- Dual e-Dial and full weather sealing (like the K-5);

- 100% viewfinder coverage;

- 11-point AF (as usual);

- Suggested maximum selling price of 799 Euros with 18-55 WR (699 Pounds at the above Amazon link with DAL 18-55)(and maybe also at US$800 at the States);

- Use both proprietary Li-ion rechargeable battery and AAs.


Well, as an existing K-5 user, the K 30 has no attraction to me anyway. But yet it's good to hear see some new Pentax products in the meantime, finally. And, I hope more to come!