My last post talks about new Pentax DSLR manuals are available for download. I have just downloaded the K-r manual and found something that are not so-noticeable for what K-r has but K-x lacks. Here are two summaries for all the major differences, no matter they are already well-known or not:-


Pdf Document Page* of the K-r Manual

New Feature / Improvement

18

Red AF Point Illumination Indication

18

3" VGA Resolution LCD Mon.

19

New Infrared Port

45

Using Li-ion Battery

48 / 322

Optional AA Battery Holder

51

More Battery Indication Levels

(Show Battery Type and its Fullness / Emptiness)



101

Expanded ISO Range Up to 25600

(K-x can be Up to 12800)



127

New Option of "Focus Priority" Or "Release Priority" of the AF-S Mode

128

New Option of "Focus Priority" Or "FPS Priority" of the AF-C Mode used In Conjunction With Continuous Frame Advance Mode
129

New AF Assist Light with the Option of Turning Off

(K-x has that function but using Flashlight but Without any External LED)



130

New AF Fine Adjustment Function (For how to do similar thing with the K-x, Read Here)

153

New Interval Shooting Function

154

New Multiple Exposure Function

315

Support the 3 FA Limited Lenses for Lens Correction Functions

(Similar to the new firmware update of the K-7)






* Remarks:-



1. The document page and the user manual page of the Pentax pdf file are usually mis-aligned, e.g., the Page 101 of the pdf file is actually the Page 99 of the manual, so please take note of this;

2. To go-to a pdf page directly, press Ctrl-N or Shift-Ctrl-N (Depending on the version of the reader).

On the other hand, the following limitations are still the same for both K-r and K-x:-
Pdf Document Page*

Limitation

18

Same 12.4 MP CMOS Sensor

(Low Resolution to the Competition)



19

No Cable Switch Socket

28

Mono Sound Recording for Built-in Microphone under Video Mode

170

AF is Not Possible During Video Recording

170

No Still Image Can be Taken During Video Recording

(which

Canon DSLRs Can

)



334

Top Flash X-sync of 1/180th second

(

Ditto for the K-5

anyway)



Frankly, the K-r is quite feature rich and highly configurable. It should have been the perfect camera without the major discrepancies as listed in the second table. The 12MP is really on the low side for the pixel count by today's standard. And, the lack of a
cable switch
could be a headache to some whom like to shoot on tripod and monopod with real-time focusing/metering and exposure controls.
Last but not least, the K-r actually consumes a bit more power than the K-x. Just note about the theoretical maximum number of shots possible with the K-x is 1900 whilst for the K-r, it is only 1600, when Lithium AA batteries are used and both measured at 23 Deg. C.
Btw, I am still wondering if I should buy the K-5 or the K-r. But if I am to buy the K-r, this would be the colour I would choose (and maybe also with the DAL 35 with matching colour, too):-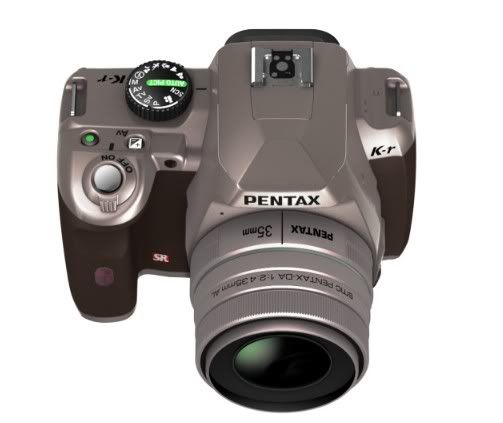 Read Also:-
What Colour Scheme of the K-r Would You Choose?
How to Order a Custom Coloured K-x from Japan by Yourself?
Poll Results and Summary on the Choice of Recent Current Pentax DSLRs
Mega Poll: Current Pentax DSLR Body Selection Dilemmas!
Ten Reasons for Thinking Twice before Decided on a K-5..
K-x Debug Mode Tutorial - AF Adjustment