Samsung have just also released the NX lens roadmap of theirs, see what PhotoRumors.com reports:-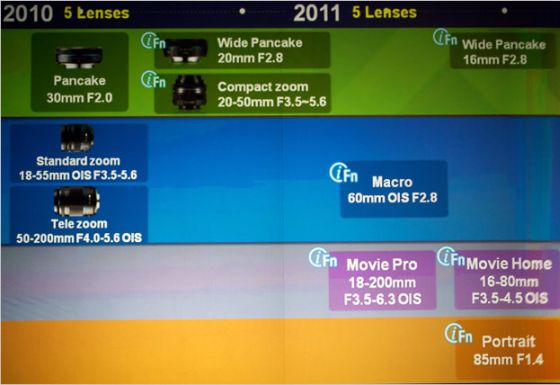 Well, I think this is just a response to Sony for announcing their NEX lens roadmap earlier at the Photokina..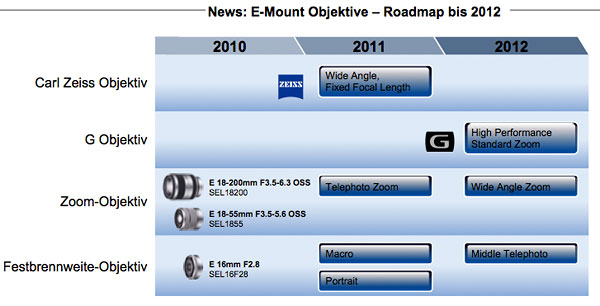 On the other hand, both Canon and Nikon do not have any roadmap, but they do have announcements of bundles of new lenses and pre-announcements on new development!

Okay, let's count how many new Canon lenses Canonians have had for this Photokina: They have Six (6)! And, it was told that two new updated versions of L lenses will come later! As for Nikon, their also had 6 new Nikkors announced, plus a new SB dedicated flash!

In BIG Contrast, Pentax/Hoya have no roadmap published nor there is any response to others, neither to their users! Last time they "updated" the old Pentax Corp. lens roadmap is to delete/cancel plans of those not-yet-released new lens models that had included in the old roadmaps of Pentax! :-o Damn it! >:-[

I do think that the *Pentax* planned/designed DA*30 and the SDM compatible 1.4X Tele-Convertor are just very valuable add-ins to the current DA lens lineup for both of it as they really fit in some important omissions currently.



( Figure Above: Pentax DA 1.4X SDM - The Vapourised Ware! :-[ )

Still, last time, here was a rumour I reported long time ago, already, as time passes by. Well, now time has almost told that I was probably wrong for believing that, and very possibly my hope but maybe actually just imagination would probably never come true! :-(( I must confess for the stupidity of mine for believing that rumour, which seems to be untrue!

So, the hard facts are Hoya cancelled plans on new DA lenses whilst there is no plan nor roadmap for a new lens system, i.e., a revived Full Frame one, as it should be the right thing to do! >:-( Canon, Nikon, Sony and Leica all have that, why Pentax alone need not to do so??!

Each time I see news and the bright future of the others, I feel upset and totally frustrated for how Hoya are now doing this Pentax business. It seems that they are now selling DSLRs and a few body kits and in numerous body colours, which they are just selling their DSLRs in a way like selling P&S DCs and "Prosumers"! I have never seen that they are selling new Pentax stuff as a strong and complete Pentax system as a whole, which should be a growing comprehensive one that will suit different needs of different users and to be updated and competitive up-to-date.. Hoya, you go nowhere! Where are YOU??

To end this Blog entry, the following statement from the Hoya CEO in an interview with the Press back to October 2009 is quoted, "The Pentax imaging/camera division will be resold, though its deficit could turn intto profit" - Mr. Suzuki Hiroshi (鈴木 洋), CEO of Hoya Corp., 6 Oct 2009. Which would just be a good enough explanation of why all those unfortunate and unfavourable things in the Pentaxland are happening.


Related:-

The Very Different Fates of Two ex-AOC Top Optical Engineers

Hoya CEO Still Thinking to Sell Off Pentax

Sony Has Had Just Too Many New Cameras To Be Announced! :-o