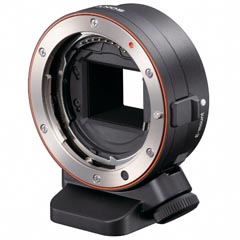 Via Firmware Upgrade! See the latest news report at the DC Watch:-

http://dc.watch.impress.co.jp/docs/news/20100922_395575.html
(in Japanese)

So, who said a K-mount ILDC/EVIL with a fully operational K-mount adaptor is (technically) not viable? :-o Note that the LA-EA1 has already supported automatic control of aperture when it was born. So, it is made to be very good for the compatibility indeed! (Well Done, Sony!)


Previous Related:-

My K-Mount EVIL is Here!