The latest firmware version 1.02 was installed and the battery issue was re-visited.

Two sets of freshly charged Energizer NiMH AA batteries (rated 2650 and 2450 mAh respectively), with my Maha charger, with a special procedure, were put into my K-x to see the battery level indication and behaviour of the camera.

Side Note: The debug mode can still be activated with the latest firmware 1.02.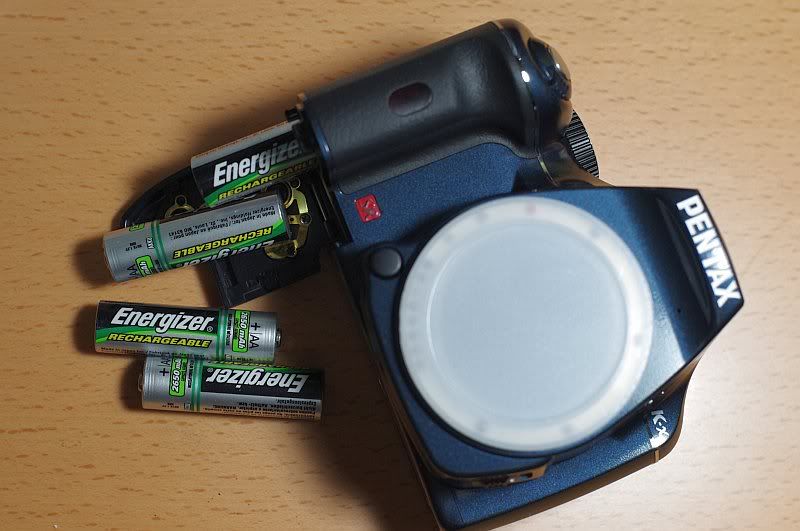 1. The battery type detection was set to Auto by factory default:-




With the two sets of the Energizer, the battery "exhausted" Red indicator came up for both!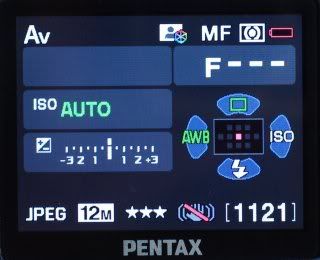 It is quite possible that the (open circuit/no load) battery voltage was a bit too high, might be at 1.35V something (not measured exactly this time). So, the total made-up voltage for four could be about 5.4V. Thus the camera believed that it was just the depleted Lithium.

2. Manually overrode the battery type to Alkaline resulted in a half-depleted Yellow indicator as below:-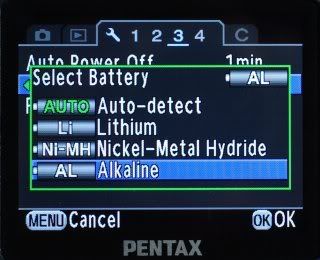 3. In order to confirm that the Auto battery (type) detection was simply fooled, I further manually overrode it to the correct battery type of NiMH resolved the problem (momentarily, will explain as it follows..) and finally a Green indicator showed up (for both sets of the batteries)!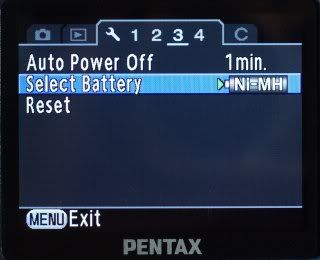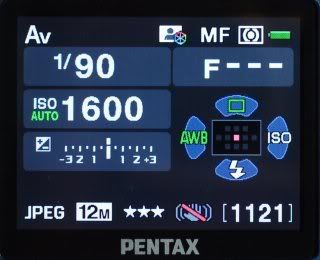 4. The test was repeated after One Day.. And the findings are:-

(i) For the first set of the batteries (2650mAh):

- Auto Battery detection worked correctly that time..

- Manually overrode it to Li (Lithium) showed the Red battery indicator;

- Manually overrode it to AL (alkaline) resulted in a Red battery indicator too, which simply hints the battery discharged a bit and the voltage dropped;

- Manually overrode it to NiMH type showed a Green indicator. So, the Auto battery type detection worked correctly this time! :-o I *must* thank God!! ;-D

(ii) For the second set of the batteries (2450mAh):

- I am not sure if the Auto Battery detection worked correctly for the first instance as a Yellow indicator showed up..

- Manually overrode it to Li (Lithium) showed the Red battery indicator;

- Manually overrode it to AL (alkaline) resulted in a Red battery indicator too, which simply hints the battery discharged more and the voltage dropped more significantly;

- Manually overrode it to NiMH type showed a Yellow indicator. So, the Auto battery type detection should work correctly but a full Green battery indicator could never be seen again! (It have only been there for one day!) >:-(

Btw, my K-r, with the latest firmware version 1.11 programmed, was also checked for the first time on the first day (but not the second). No particular irregularity was found for the quick check.


Previous Related:-

How to Resolve the K-x Battery Problem?

AA Battery Chargers Fully Compared (4 Models)

Better K-x Rechargable Solution? Is the NiZn Safe?

K-x Battery Issue and Tests (YouTube Demos)

Six Years of AA Battery Pentax DSLRs